Face Lift! New Look for FB, YouTube, Twitter, BillyJonas.com.
Monday, January 30, 2012
WHAT'S NEW
West Coast!
About to jump on a plane to southern California to help celebrate the 15th annual Tu B'Shvat Nature Fest on Jan 29 at the Shalom Institute in Malibu, CA from 11am-4pm! Billy will be performing with various artists including urban-latino-dance-funk culture mashers OZOMATLI. Tu B'Shvat is a Jewish holiday celebrating the wonder of trees, and our interconnections. The day will be full of diverse nature activities and events, and occurs under the auspices of BigJewishTent.org.
While Billy is out there he makes his 4th appearance at the prestigious Thousand Oaks Civic Arts Plaza in Thousand Oaks, CA on Feb 1. The 9:30 am show is sold out!
Reserve tix now for the 11 AM SHOW. This is your chance, all of you Californians, to bring your kids, your grandparents, your brothers and sisters to see Billy Jonas live in your state! If you can't make it, please forward this email to folks in the north L.A./Ojai/Ventura area.
Visit the Civic Arts Plaza website and book your tickets HERE.
Asheville House Concert - New Songs!
In our own hometown of Asheville, NC the Billy Jonas Band (Billy, with
Juan Holladay, Ashley Jo Farmer, Sherman Hoover) will be sharing the results of their winter woodshedding, at a general audience show for BK House Concerts, Sat Feb 4th. A delicious potluck kicks it off at 7 pm, music begins at 8 pm. Please email Kelle Olwyler at kolwyler@bellsouth.net or call at 828-779-2550 to reserve your place. There is limited seating and this show will sell out!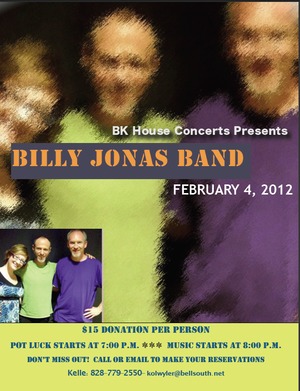 Memphis - Folk Alliance
We have been invited back to perform at the 24th International Folk Alliance Conference 2012 and are excited to mix and mingle with 100's of outstanding performers from all over the world. It's a combination "music industry family reunion" and "vertical folk festival" -- concerts, lectures, workshops, and jam sessions from the top to the bottom of the hotel, including in the elevators and stairwells, no lie, in Memphis TN for 5 days straight! Filled with tons of talent, beautiful and inspiring musicians, and of course a bit of chaos! For more info: International Folk Alliance Conference
Face Lift! New Look for FB, YouTube, Twitter, BillyJonas.com
It's makeover time: we gave facebook a facelift, the Billy Jonas website a wedgie, twitter page a tweak, and the Billy Jonas YouTube channel a colonic.
We are still making changes and would love to hear any feedback that you have -- email us at office@billyjonas.com. Thanks!