What Kind Of Cat Are You?!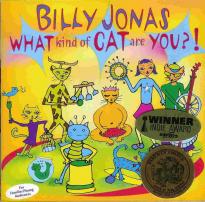 released 2002
The main instrument is YOU when you sing and bang along with Billy Jonas' cd "What Kind of Cat Are You?!" Billy Jonas' fans will make music in all new ways as they enjoy this award-winning (2002 Parent's Choice Gold Star) collection of 13 interactive songs. Like a virtual song leader at a lively campfire, "What Kind of Cat Are You?!" encourages everyone to use their own voices and any handy item to "sing, dance, snap, tap, clap their hands and join the band!"


As with all of Billy's music, the main instrument for "What Kind of Cat Are You?!" is the audience: call-and-response lyrics, open-ended questions, and quiet instructions that inspire movement and imaginative thought. Nearly every song on "What Kind of Cat Are You?!" was inspired by and developed in performances with live audiences.


"What Kind of Cat Are You?!" features an amazing amalgam of musical styles, sure to pique the interest of everyone in the family. Each piece employs a mix of traditional instruments and lively "Industrial Re-percussion" (homemade instruments fashioned from found and recyclable objects). Children's voices provide just the right backdrop for singing along.


"What Kind of Cat Are You?!" engages listeners on many levels - physically, musically and intellectually. The songs simultaneously invite the listener to dance, do hand motions (learned in concert, or from Billy's video "Bangin' & Sangin'!" or made up by you!), sing the lyrics, answer musical riddles, or bang on a drum or box top. The combination of music, rhythm, and participatory lyrics creates an irresistible oscillation in the mind and body.


Billy's unusual outlook on life comes to the forefront on each song, where listeners can get involved in the increasingly hilarious self-exploratory answers to the question "What Kind of Cat Are You?!" "Aliens in My Lungs" makes a convincing case for the extraterrestrial experience of anyone invaded by a bad cold. The slurpy deliciousness of "Watermelon" is completely conveyed by Billy's juicy sound effects. When "Old St. Helen" explodes, people find "pieces of the mountain" in their noses, and feel the "rumble" as they become one with the mountain. A new rendition of the happy classic hit "Lean on Me" will be the perfect sing-along to share among friends, as they "stomp, clap, stomp stomp clap" along with hundreds of people making the catchy beat. Most of the songs are energetic, but the imaginative story-song "Nine-Foot Dragon" encourages quiet listening.


At the end of the recording, Billy invites everyone to make a joyful noise with friends and family - using whatever instruments are handy - whether it be "a bucket or a garbage can." "These are powerful tools for encouraging creativity and creating connectedness among people," as Billy says.